Open Surge is a fun 2D retro platformer inspired by Sonic games and a game creation system that lets you unleash your creativity!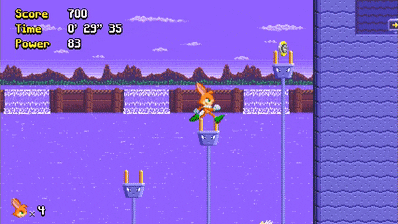 How do I create a game?
Use Open Surge to create your own amazing games! Create new levels, items, bosses, gameplay mechanics, playable characters, special abilities and more!
First, learn how to create a level using the built-in editor (press F12 during gameplay)
Next, learn how to do basic hacking (modify the images/sounds, create new scenery, new characters, etc.)
Finally, have fun with scripting! SurgeScript, the scripting language featured in Open Surge, gives you ultimate power to create anything you desire and make your dreams come alive!
To learn more, read the project wiki and watch the video tutorials made by the developer of the engine.